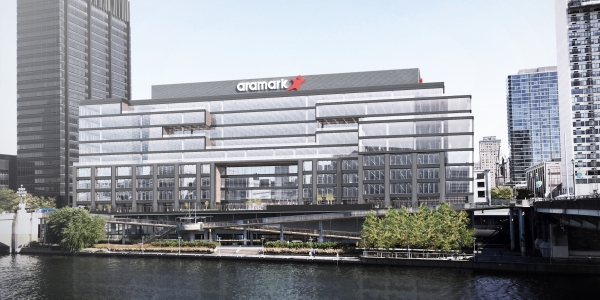 2400 Market Street to Become New Global Headquarters for Aramark
PHILADELPHIA — PMC Property Group is proud to announce that 2400 Market Street — a property owned by a joint venture with The Lubert-Adler Real Estate Funds — will become the new global headquarters for Aramark, the $15 billion, Fortune 200 global leader in food, facilities management, and uniforms.
With their relocation planned for Fall 2018, Aramark will occupy the top five floors and nearly 300,000 square feet as the building's anchor tenant. In addition, there will be another 250,000 square feet of office and retail space available for lease.
For leasing information:
George Cauffman, CBRE, Inc.
215.561.8934 or george.cauffman@cbre.com
Read more:
Aramark Announces Site of New Global Headquarters in Philadelphia
Aramark Moving Schuylkill-Side as Downtown Office District Shifts West
Photo credit: A rendering of the future Aramark headquarters at 2400 Market Street (Varenhorst/Gensler)