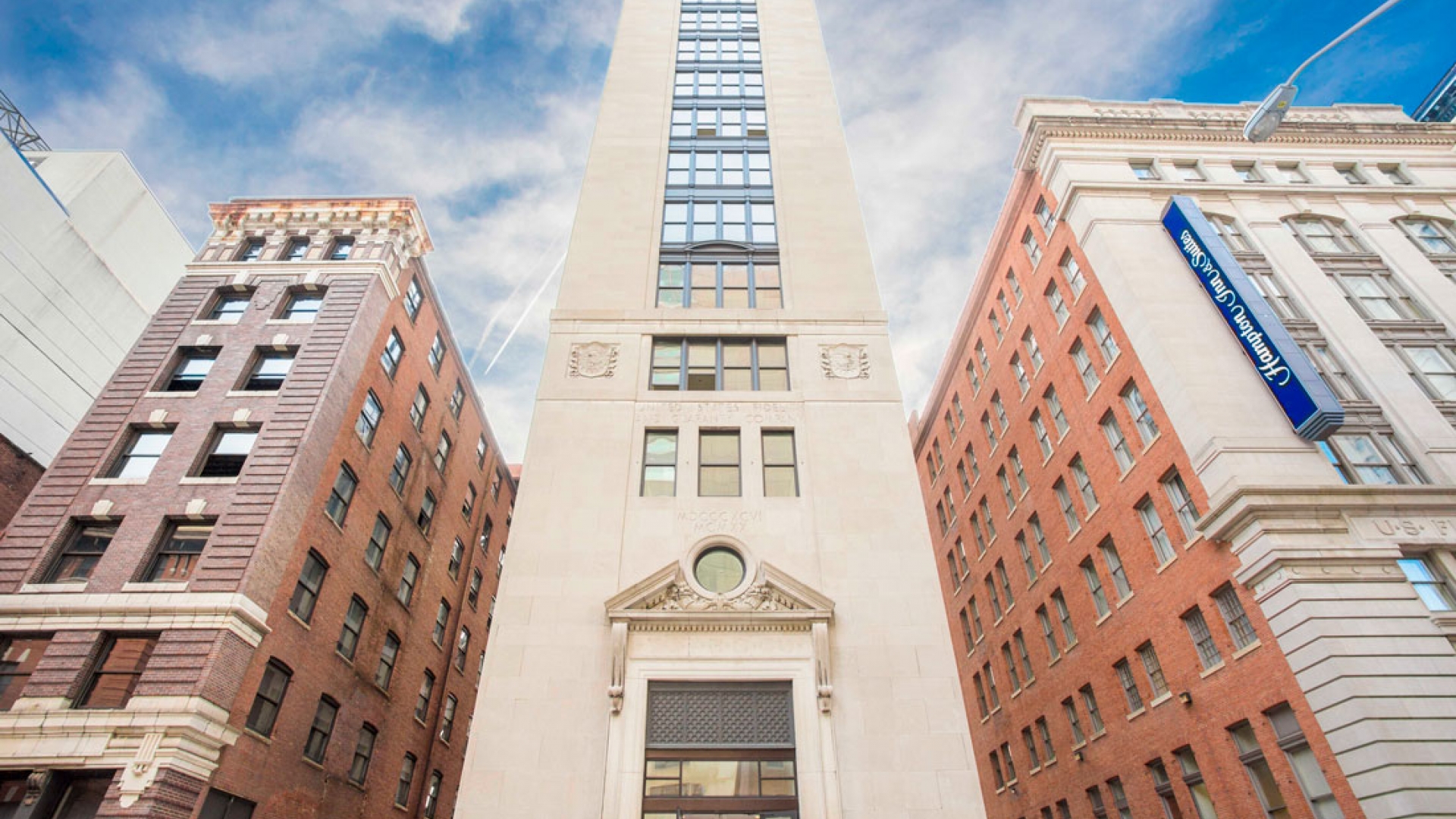 26 Calvert
Former use: Vacant office building
Current use: Luxury apartments; retail
Amenities: Bi-level lofts; fully-equipped fitness center with indoor basketball court, cardio equipment, and free weights; resident lounge with wifi, work spaces, games, and entertainment; roof deck; first-floor courtyard
This historic building in the heart of downtown Baltimore once served as the headquarters of USF&G Insurance, yet sat vacant for several years before being acquired and converted into apartments by PMC Property Group. In fact, the building's renovation represented phase one in a six-property development that includes four additional vacant buildings between 30 and 36 S. Calvert, as well as 31 Grant Street. Eventually, all of the buildings will be connected and consolidated into one overall entity comprising 188 total apartment units and approximately 6,000 sf of first-floor retail space that will likely include a restaurant.
The renovation of 26 Calvert — a 12-story, 75,000-square-foot highrise erected in 1905 just blocks from the famed Inner Harbor — was conducted with an equal commitment to historic preservation and modern revitalization. The project involved replacing 600 historic windows and installation of new utility services, all new LED lighting, power distribution, fire alarm systems, and more.
The apartments now boast 12-foot ceilings, oversized historic windows, granite countertops, and stainless steel appliances, while the rooftop deck provides panoramic views of the Inner Harbor and Baltimore skyline. Other noteworthy amenities include a fitness center with an indoor basketball court, cardio equipment, free weights, and flat screen TVs; a lounge with wifi, workspaces, ping-pong, foosball, shuffleboard, and billiards.
26 Calvert is one of the properties that motivated Kirby Fowler, president of Downtown Partnership of Baltimore, to state in a July 2015 article by Bisnow Baltimore, "Calvert Street is coming back to life. It's very encouraging to see."