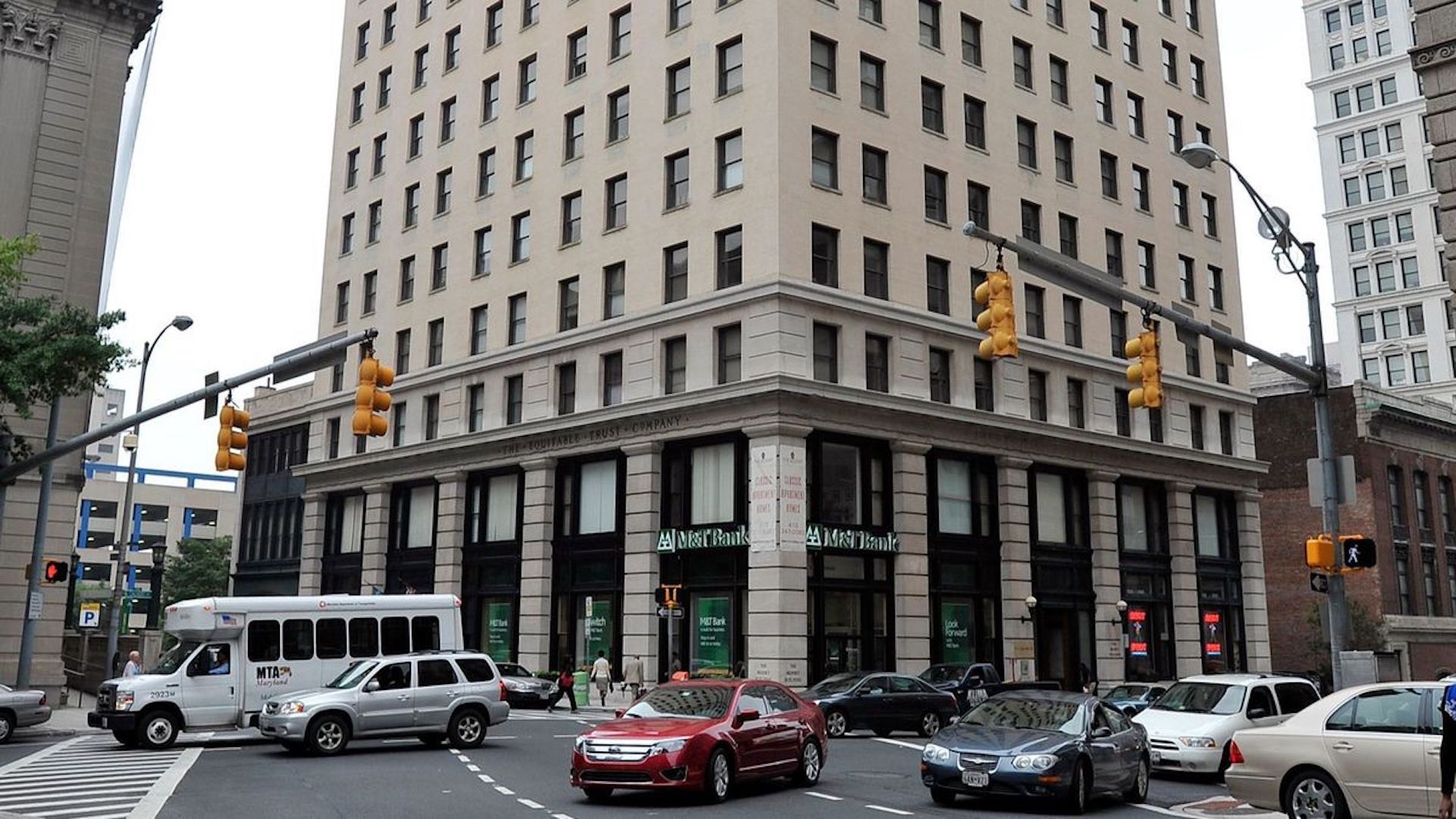 The Munsey
7 N. Calvert Street
Baltimore, MD 21202
Current Use: Mixed-use residential/commercial
The original Munsey Building was an ornate 12-story structure erected in downtown Baltimore in 1905 by Frank Munsey, an entrepreneur and publishing magnate whose holdings included the Washington Times and Baltimore News.
In 1911, Munsey had his namesake building rebuilt via a joint venture between two esteemed architectural firms: Baltimore-based Baldwin & Pennington and NYC-based McKim, Mead & White. The resulting elegant new 18-story Italian Renaissance Revival-style building boasted steel construction with a Bedford limestone façade on the lower floors and brick and terra cotta on upper levels, as well as high-quality materials throughout, including luxurious marble paneled walls, pilasters, wainscoting, and wood and brass detailing.
Located in a publishing district just a few blocks north of Baltimore's Inner Harbor and flanked by the Washington Post and Evening Star buildings, the new Munsey was Baltimore's tallest office building at the time, housing both high-end commercial space and a printing press that was visible to the street via expansive first-floor plate glass windows.
The building soon became the headquarters of the Munsey Trust Company (later reorganized as Equitable Trust Company) — which would go on to become one of the largest banks in Maryland — followed by Baltimore's first radio station, WEAR.
In 2002, the building was converted into modern loft-style apartments with ground-floor shops and cafes, becoming a key contributor to the growing multi-family living trend in downtown Baltimore. A renovation conducted at that time included refurbishing the Munsey's exterior while preserving its grand entrance, marble floors, and brass elevators, garnering a preservation award from Baltimore Heritage in 2004. The building now offers 149 studio, 1-, and 2-bedroom apartment homes ranging from 668 to 1,705 sf, as well as 4,000 sf of ground-floor retail space. New amenities included 64 underground parking spaces, a state-of-the-art fitness center, business center, and community club room.
After purchasing the landmark Munsey Building in 2020, PMC Property Group revamped the amenities to bring them new life and make them more desirable for current and future residents — who now enjoy this property's ideal location in the heart of Baltimore's central business district within walking distance to the Inner Harbor area, sports complexes, public transportation, and numerous appealing dining options.