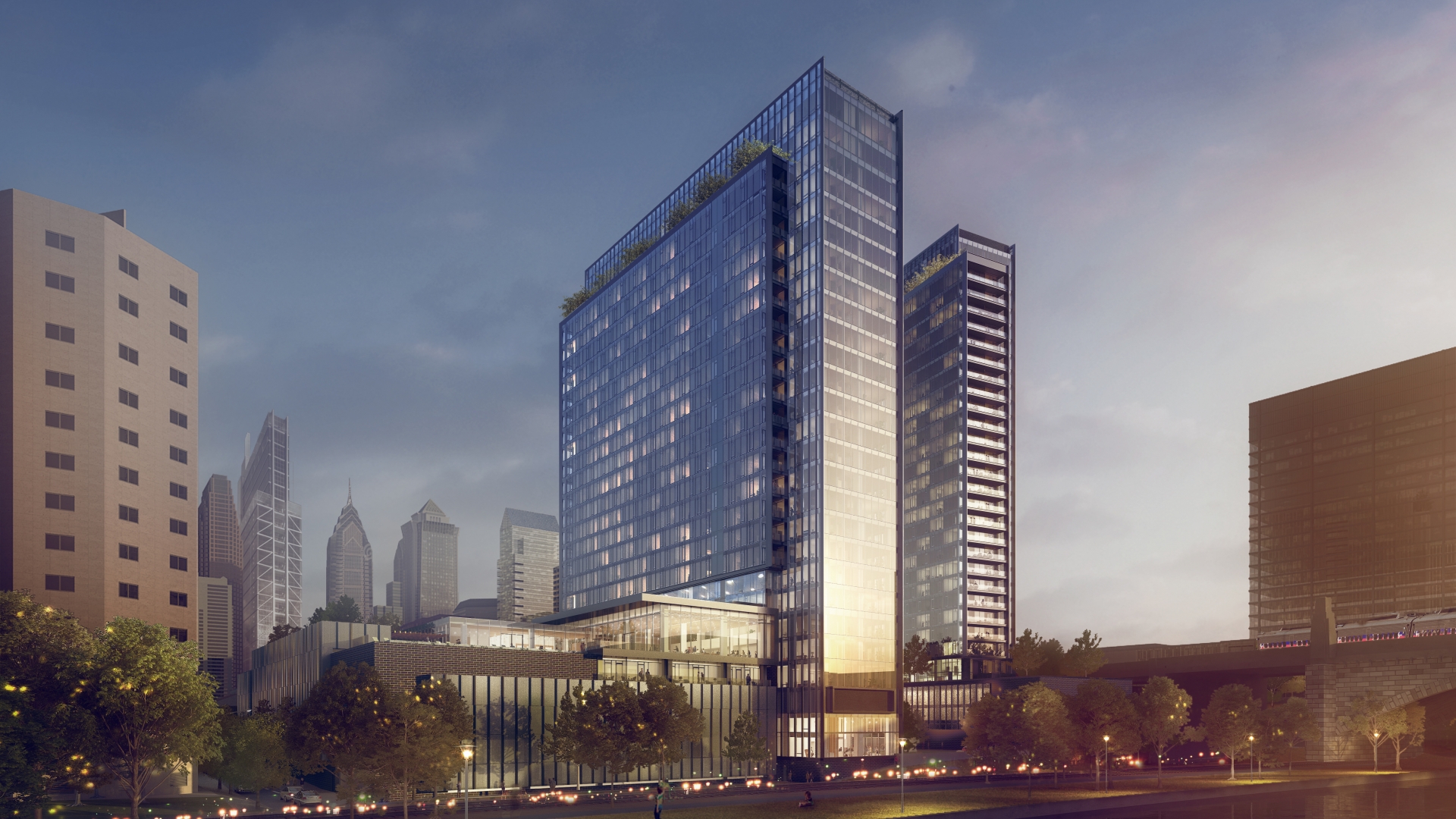 Riverwalk
60 N. 23rd Street
Philadelphia PA 19103
Current use: Luxury apartments; retail
2301 JFK Boulevard
Philadelphia PA 19103
Current use: Luxury apartments; retail
Shared Amenities: Rooftop terraces; infinity pool; state-of-the-art fitness center with yoga, cycling, and pilates studios; resident lounge; co-working and private office space; outdoor lounge and kitchen; outdoor field house featuring volleyball, tennis, soccer, basketball, squash, platform tennis, outdoor fitness, and parking; on-site pet care 
Riverwalk is a new construction, mixed-use community on one of the last remaining parcels available for development along Philadelphia's Schuylkill River waterfront. Designed by esteemed architecture firm Gensler, the property consists of two soaring glass-skinned residential towers at 60 N. 23rd Street and 2301 JFK Boulevard connected by a pedestrian bridge passing over a walkway and driveway.
While these dynamic buildings were designed with cohesion in mind, they stand at different heights with subtle differences in the angle of the building placement and texture of their skins, causing the reflection of the sun to give each a unique appearance. The 28-story tower at 60 N. 23rd Street houses most of the shared activity-oriented rooftop amenities, including terraces, a luxurious infinity pool, lounge, and state-of-the-art fitness center, as well as on-site parking and more than 72,000 sf of ground-floor retail space — including a flagship two-story, 65,000-sf Giant supermarket. One of the largest grocery stores in Center City, this groundbreaking retail outlet will feature online shopping and delivery service, plus an outdoor terrace where shoppers can dine, enjoy live music, or host private events.
The 32-story tower at 2301 JFK Boulevard houses more of the shared community spaces and also features on-site parking and an additional 2,375 sf of ground-floor retail.
Residents will enjoy this lively hub connecting Center City's western riverfront and bustling business district — with opportunities to live, work, shop, dine, and discover adventure along the Schuylkill River Trail.