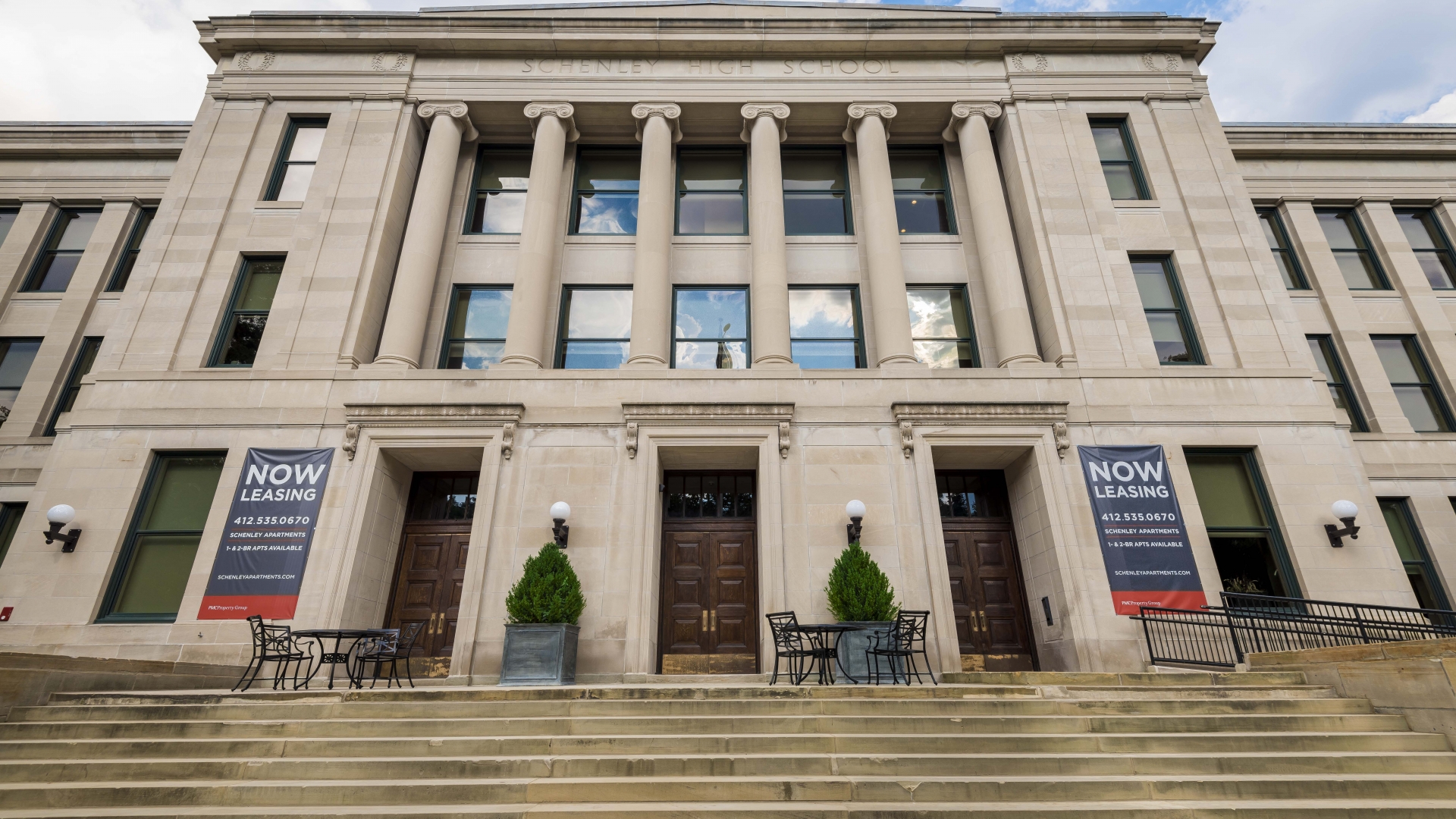 Schenley Apartments
Former use: High School
Current use: Luxury apartments
Amenities: Movie theater; state-of-the-art fitness center with Peloton Cycle® studio; indoor basketball and bocce courts; resident lounge with billiards and ping pong; outdoor resident decks; pet-washing station
When it opened in 1916, Schenley High School, a distinctively triangular-shaped gray limestone building with rounded corners designed by Edward Stotz, represented state-of-the-art construction and the highest quality materials of its era. The beloved North Oakland public school when on to produce many famous graduates — from artist Andy Warhol and Nobel Laureate Clifford Shull to jazz musician George Benson and several NBA and NFL athletes — before closing its doors in 2008.
PMC Property Group has since acquired this landmark property located just blocks from the University of Pittsburgh campus, and with help from Strada Architecture and guidance from the National Park Service, transformed it into a luxury apartment building that preserves many charming original details. The auditorium, for example, is almost completely intact, as are the original expansive windows, terrazzo floors, and a series of oak interior doors lining the hallways. The 180 apartment units feature original chalkboards and wood floors carried over from when the spaces served as classrooms. Crews even retained some of the school's basketball court floor painted with the school's signature red, black, and white colors — and repurposed it to create a new indoor half court for residents of Schenley Apartments. 
Other additions made to the property include new electrical and plumbing systems; an underground parking garage with a ramp and a rear surface lot; three elevators and other ADA upgrades; asbestos abatement; the conversion of an auditorium into a movie theater; and a new bocce court, fitness center with Peloton cycle studio, and lounge with billiards and ping pong.
Residents enjoy great local dining options, close proximity to the Strip District, Heinz Field, PPG Paints Arena, and PNC Park, and bike-friendly commuting and easy access to public transportation.