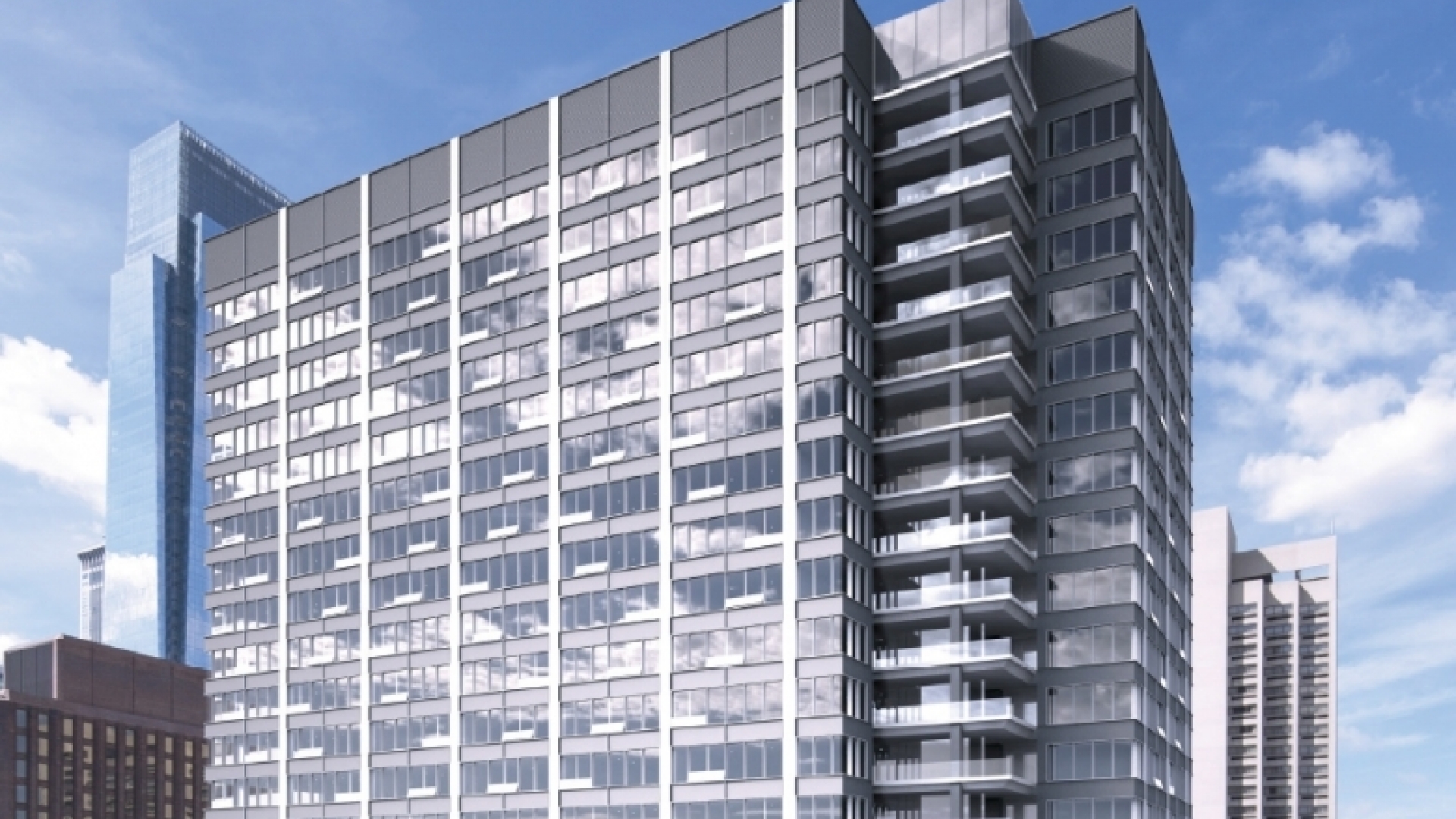 Franklin Tower Residences
Current Use: Mixed-use — Luxury apartments, commercial, and retail
Former use: Office tower
Amenities: Indoor basketball court, theater and media rooms, state-of-the-art fitness center, Peloton Cycle® Studio, yoga studio, resident lounge, roof deck, business center with private and collaborative work spaces, self-serve dog washing station
Franklin Tower Residences, which once served as the headquarters of the global pharmaceutical firm GlaxoSmithKline, was completely renovated both inside and out in 2015 — redefining the city's skyline.
In partnership with Lubert-Adler Real Estate Fund, PMC Property Group worked with the esteemed Philadelphia architecture and design firm Gensler to completely reimagine the look and feel of this once uninspired-looking office building. After stripping off the aging concrete façade, we re-clad the building in a contemporary smoky gray glass, installed I-beam style window dividers and balconies to provide exterior depth and variation, and devoted floors 1–9 to first-class office and retail space. The property's commercial component features floor-to-ceiling glass windows with generous natural light, excellent planning dimensions, eight corner offices, and its own dedicated contemporary elevator lobby.
Luxury apartment units, located on floors 10–24, offer generously sized floorplans and top-tier amenities. Residents now enjoy an indoor basketball court; a state-of-the-art fitness center with an integrated Peloton Cycle® Studio and yoga studio; a resident entertainment lounge; a roof deck with panoramic views, outdoor fireplace, and grills; theater and media rooms; a business center with private and collaborative work spaces — and even a self-serve dog washing station.
Franklin Tower's ideal Logan Square neighborhood offers exceptional walkable dining options and close proximity to Center City's business district — featuring the Comcast Technology Center and Four Seasons Hotel — universities, public transportation, parks, and pet-friendly spaces.