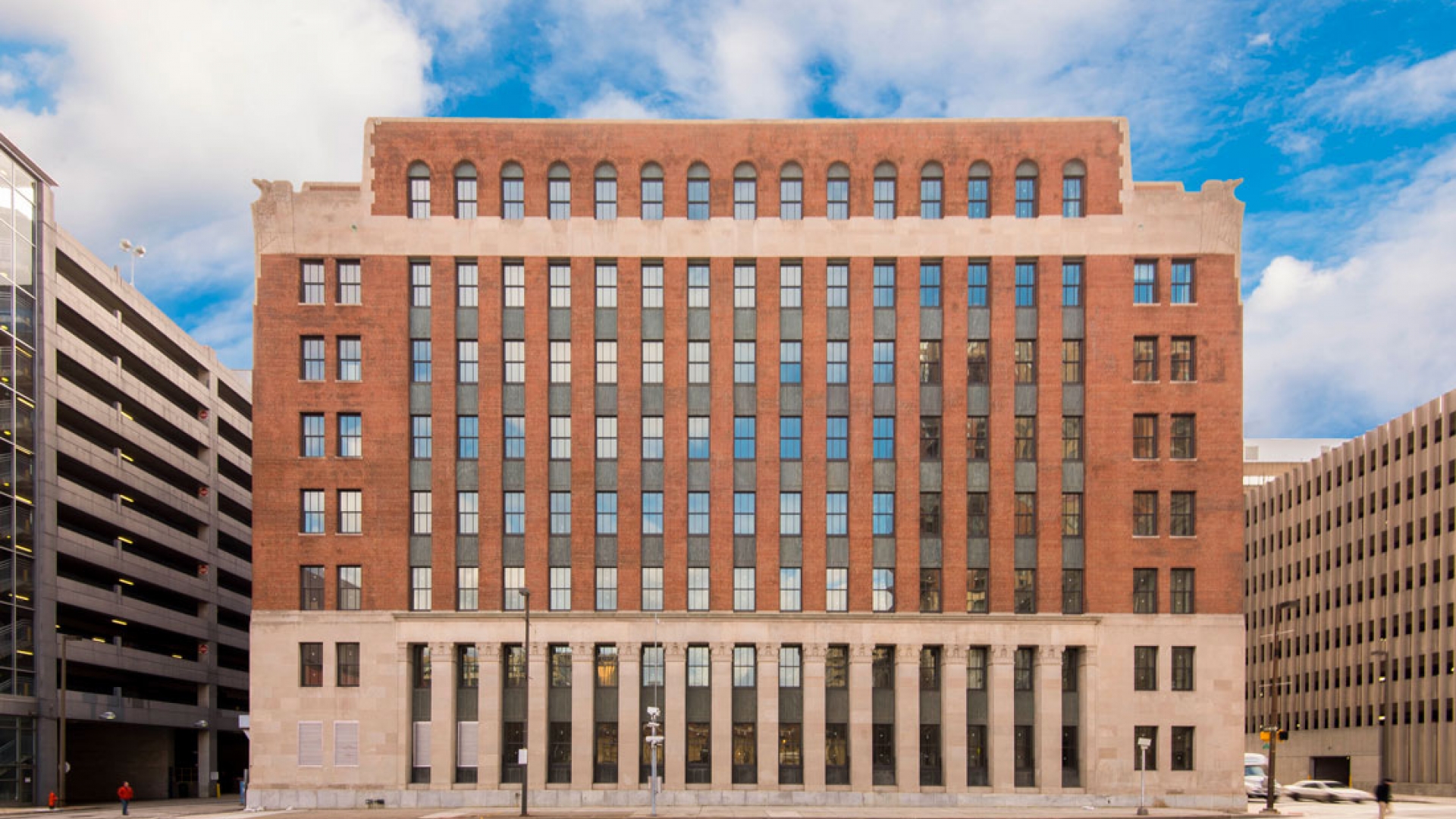 The Appraisers' Building Residences at 103 S. Gay Street
Former use: Vacant federal office building
Current use: Luxury apartments 
Amenities: Bi-level penthouse floor: state-of-the-art fitness center, Peloton Cycle® studio; indoor basketball court; resident lounge with billiards, ping pong, big screen TVs, and wifi; roof deck 
This eight-story, 147,000 sf Depression-era building, designed by the Baltimore architecture firm Taylor and Fisher, was originally built by the U.S. Treasury to provide space for the federal government to store, appraise, inspect, and apply duty taxes to goods that were being imported through the Port of Baltimore. It later served as the home of the U.S. Department of Veterans Affairs before being vacated and sold at auction.
After acquiring the Appraisers' Building, PMC Property Group worked with locally based engineering and architecture firms to convert the well-maintained building into luxury apartment units and make other alterations that improved access to the main staircase and accommodated a bi-level penthouse floor featuring numerous new amenities. According to the terms of an agreement with the Maryland Historic Trust, PMC Property Group preserved the original marble lobby and the building's brick and limestone Art Deco-style façade, which includes several majestic large eagles carved into stone at the roofline and atop the main entrance.
Located just blocks from the Inner Harbor and National Aquarium, the property now offers residents an array of impressive amenities, including a state-of-the-art fitness center with a Peloton Cycle® studio; indoor basketball court; resident lounge with billiards, ping pong, big screen TVs, and wifi; and a roof deck with exceptional views of the city.
The Appraisers' Building renovation has helped to fuel the momentum of residential conversions that are tying Downtown Baltimore to Harbor East. In fact, it is one of the city projects that motivated Donald Fry, president & CEO of the Greater Baltimore Committee, to state in an April 2018 interview with MultiHousing News, "There are more feet on the street downtown today due to the apartment conversion trend. We are seeing more downtown residents walking dogs, jogging, shopping, and pushing strollers. That is really changing the vibe of downtown Baltimore."
Virtual Tour - Amenities
Navigate through the tour using the arrow keys.