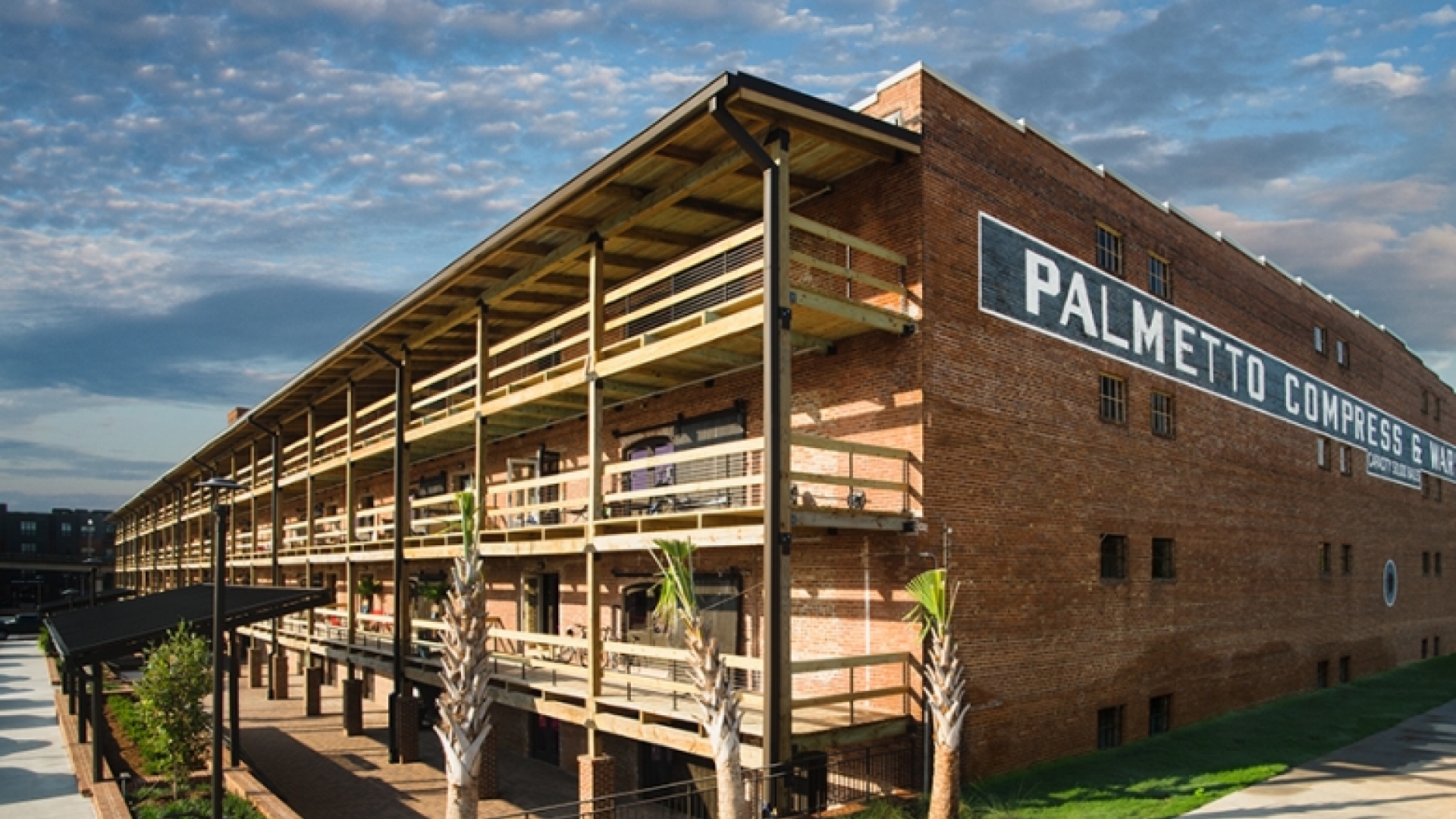 The Apartments at Palmetto Compress
Former use: Vacant warehouse
Current use: Luxury apartments, retail
Amenities: State-of-the-art fitness center with cardio and strength-training equipment; bi-level pool house with ping pong, billiards, life-sized chess, and sun deck; open-air courtyard with private porches, balconies, and slide; on-site parking
For three decades, the fate of the historic Palmetto Compress building in Columbia, S.C., hung in the balance. The 4-story cotton bale compress facility and warehouse was originally built in 1905 with floors that sloped in the middle in order to drain water away in case the sprinkler system went off — or to quickly roll bales of cotton toward large bay doors in the event of a fire. This substantial design quirk led many developers to shy away from redevelopment efforts, leaving the building in danger of being demolished.
In 2015, however, PMC Property Group acquired the building and teamed up with Columbia-based Garvin Design Group to implement out-of-the-box solutions that allowed the building to be turned into a luxury apartment complex with industrial flair.
In addition to leveling out the floors, interior light wells were added to allow in more daylight — solving a problem caused by a series of small windows on some sides of the building. The extensive renovation also involved replacing many of the existing doors and windows, demolishing and rebuilding the porches surrounding the building, and adding first-floor retail space.
The luxury apartment lofts in this renovated warehouse space now feature modern finishes and amenities mixed with elements of historic charm, including exposed brick walls and original wood beams.
In addition to close proximity to the University of South Carolina, residents enjoy a state-of-the-art fitness center with cardio and strength-training equipment; a bi-level pool house with ping pong, billiards, a life-sized chess board, and a sun deck; an open-air courtyard with private porches, balconies, and an oversized slide.